Life Science Dictionary Tool is a Mouseover dictionary that can translate vast numbers of life science terms. 100,000 English terms and 110,000 Japanese terms available with examples and gene information collected from life science dictionary project (
http://lsd.pharm.kyoto-u.ac.jp/en/
).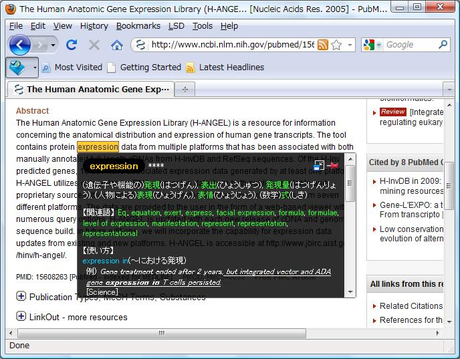 It will immediately pop up the meaning, related terms and example sentences when hovering the mouse over the unknowing technical terms.
Immediately translate phrases made with multiple words!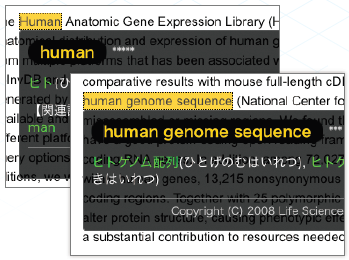 Pinning function
You can pin the displayed pop up.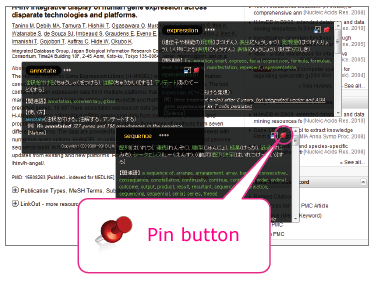 Shrink Function
You can shrink the pinned pop-up and display only the title.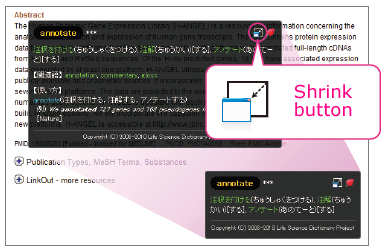 Key Combination
Translation operates only when pressing specified combination of keys.
(Click
here
for more information.)
Range selecting translation
When multiple numbers of phrases match, you can select one term and translate individually.
* Available when using key combination function.
Translated by the longest match
Selected phrase will be translated.
Change highlight style
You can change the highlight style of the term founded in the dictionary.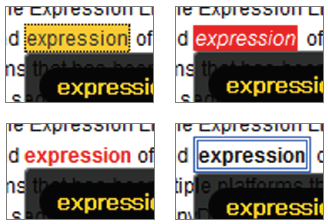 Please send all inquiries regarding Life Science Dictionary Tool to the following address: Email : info@lsdtools.org